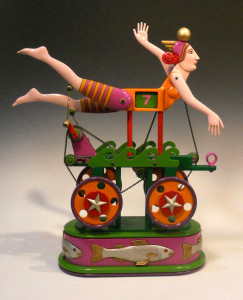 James Eaton creates unique, fanciful, painted automatons, weather vanes, whirligigs and other sculptural objects.
His creations are somewhat enigmatic in that they are at once humorous and friendly, yet elegant and refined. They are reminiscent of folk art, yet very contemporary. Mr. Eaton's works are permanent, durable, and are suitable for either exterior or interior use.
---
Mr. Eaton's works can be found in many public and private collections and have been selected for inclusion in a wide variety of exhibitions and gallery shows throughout the United States. His pieces incorporate expertise gained from a comprehensive art and design background especially in the use of color, materials and processes.
He holds a degree in Industrial Design from the college of Fine and Applied Arts at the University of Illinois and has been a practicing artist/designer for over 30 years.
His objective is to create unique objects that are enjoyable to be with for a long time.
Installations
Children's Hospital Medical Center of Akron, Akron, Ohio
Bonner Heritage Farm, Lindenhurst, Illinois
Children's Inn at NIH, Bethesda, Maryland
Comanche County Memorial Hospital, Lawton, Oklahoma
Crisis Center, Urbana, Illinois
DuPage County Children's Museum, Wind Exhibit, Illinois
Georgetown University, Children's Unit, Washington, DC.
Highland Park Hospital, Highland Park, Illinois
McNeilly Center for Children, Nashville,Tennessee
St. Louis Children's Hospital, St. Louis, Missouri
Winnetka Children's Library, Winnetka, Illinois
Selected Collections
1st Miami Securities, Miami Beach, Florida
City of Miami Beach, Florida
Doral Tuscany Hotel, New York, New York
Fleetwood Industries, Reading, Pennsylvania
Gottex Inc.
Graphic Dimensions LTD., Flushing, New York
Herman Miller Inc., Zeeland, Michigan
Polo (Ralph Lauren Inc.)
Saks Fifth Avenue, New York
Theta Industrial Products, Spring Park, Minnesota
Ultraflex, Genova, Italy